Journey to Belly Dancer of the Year 2018: Pt. 3 - Action Planning
It's 24 weeks until I'm in the home stretch for Belly Dancer of the Year 2018. It seems like a long way off, and like not enough time! I'm giving consideration to the areas where I need to plan for creation time or getting support for the process. One thing I am learning to make more use is a paper planner, writing things down helps keep it in my brain and gives me a literal feel for action items. Plus I get to use colored pens and that brings me a certain amount of joy.
Creating structure & focus
Structure is one of those things that I know is good for me yet I don't like it. I do like the sense of accomplishment and relief from knowing there is a plan. Using my desire to feel good I sit down with pens and paper. Without stopping to edit, I wrote down different areas for action. When I felt done, I could see there were four distinct areas with sub areas of focus for each one.
Area #1 - Personal: Taking care of all aspects of myself
Sub Area 1 - Self Care: Massage, hair upkeep, pedicures, relaxing time, nourishment
Sub Area 2 - Coaching: Working with Cera Byer, BIO with Kellita
Sub Area 3 - Fitness: Yoga, TRX, Rebel Recess, Walks
Sub Area 4 - Scheduling: Planning out time for dance practice, costuming
Area #2 - Dance Skills: What do I want to improve between now and May 2018
Sub Area 1 - Zills: Practice, workshops, local class/coaching
Sub Area 2 - Technique: Workshops, Datura Online, dance specific coaching, local classes
Area #3 - Costuming: Creation & budgeting
Sub Area 1 - Concept: Sketching, drafting, identify pieces I already own
Sub Area 2 - Crafting: Planning for items I need to buy, assemble items I already have and put in designated project bin
Sub Area 3 - Testing: find opportunities for dress rehearsals, make adjustments as needed
Area #4 - Category Preparation: Decision making
Sub Area 1 - Music: selecting, editing, mapping, choreographing (if needed), rehearsing
Sub Area 2 - Props: choice, rehearsal
I feel so much relief now, I can see what items naturally fit together and I can see the paths I will be on. Rather than spending time and energy scattered all over, I can now sort out how I'm going to tackle each focus area. This paper will go in my planning & creativity binder that has sections for all my projects. For everyone who wonders how I do all the things that I do, this binder is a major part of HOW I manage all the things.
Current plan
Looking at the areas from the list above I can find many things I am already doing. I have started the music selection process, I am currently participating in fitness classes, I have organized my sewing/crafting area for efficient creating, I have monthly massage appointments scheduled, and dance regularly. Since it is the holidays and I will be traveling in December, this feels like a workable amount of areas to focus on.
January 2018 plan
In January, once I'm back home with all my creative tools, I will start designing the concepts for costuming and props for each category. I will also begin the coaching work with my mentors, Cera Byer & Kellita of Showgirl Awakening. Working with these two coaches integrates creative concepts on a holistic level. I will have music choices made early in the month and if I haven't already edited the music, I will do so. I will then have the freedom of digging deeper into the performance elements and getting them into my body over the next 5 months. These areas, along with the areas I now have in practice will set me up for creating consistent progress.
I am available to provide support, be a cheer leader, or help you wrangle the herd of glitter covered squirrels running rampant in your thoughts. Please use the comments section.
~Nancy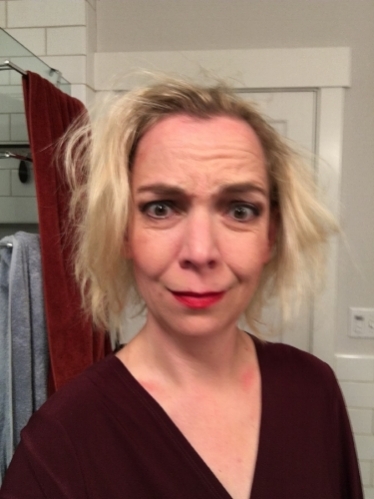 Don't be afraid to edit things out that are not serving you. Under-promise what you will carry out and the time it will take to do the thing. Give yourself time to think about what you want from this process. Celebrate your successes along the way, small ones even more than the big ones. Spend quality time with friends and loved ones, this can fill your creative tank. Connect with other creative people for support, inspiration, and accountability. Have fun and get silly at least once a week. These tips will keep you from looking like this!